Some critics of the team's work have suggested that these marks are "nothing more than scribbilings" left over from spanish mining operations
The many evidences of Spaniards seeking gold entering this area in the 15th century including; tree blazings, rock insctiptions and criptic maps indicating lost mines or hidden treasure cashes have been cronicled in countless books.
There seems little point in recounting them here. The critical the question is simply - Could these glyphs have been left by Spanish Explorers or miners?
The team's simple answer is ... No.
In the spring of 1999, Dixon Spendlove made one of two startling discoveries that would indicate these mark pre-date any recorded european exploration of this area.
Among the petroglyph writings of a known Basket Maker site [600-900 AD], of more than 200 other images, is an unmistakable 5" minature version of the glyph: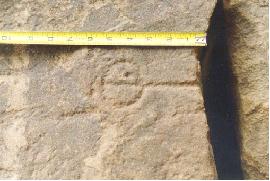 Clearly, these Basket Maker people were at the least, aware of the presence of the marks.
Because this site has a know occupation date, 700-900 years prior to any spanish exploration this argument seems to be a mute point.
On hearing this bit of evidence, the critics could only respond that "perhaps spanish explorers hid their mining marks among these ancient writings?"
The team considers this to behighly unlikely.